Ultra Lean Indirect Heat Interface Unit
Designed to work with heat pump technology as laid out in new government directives.
The TI45 Ultra Lean is an electronic Heat Interface Unit for heating and hot water applications. Two plate heat exchangers within the module allow for complete separation from the primary circuit or central plant system making the TI45 Ultra Lean ideally suited to apartments, terraced houses, semi detached houses etc. where centralised plant or district heating systems are employed. 
The production of instantaneous domestic hot water is electronically controlled via a electronic central control unit and a brazed stainless steel plate heat exchanger. By utilizing a modulating valve with 5-second stepper motor actuator (installed in the primary return circuit), it prioritises the water flow in the primary circuit eliminating wasted DHW and unnecessary waiting times. The primary water flow rate is also proportionally managed according to domestic hot water demand. The modulating valve increases or decreases the opening of the primary return circuit and any energy not used in the DHW production is used in the heating circuit (provided the heating mode is already selected). 
The TI45 Ultra Lean also includes a built-in by-pass function, directly controlled by the modulating valve and the pre-set temperature on the DHW sensor. During the stand-by phase, the DHW comfort function is activated keeping the temperature of the water in the heat exchanger at the set point selected. This could be lower than the desired temperature at the tap. If the temperature falls below the set temperature (hysteresis temperature – Tset-T hys), the two-way valve on the module is activated taking heat from the primary circuit. 
The electronic control also offers two temperature levels in the heating circuit, underfloor heating and radiator/fan coil systems. However, these cannot be selected simultaneously. Once selected the pump will change speed according to the ΔT value between flow and return. (There is also a pressure transducer to protect from pump damage caused by over pressures).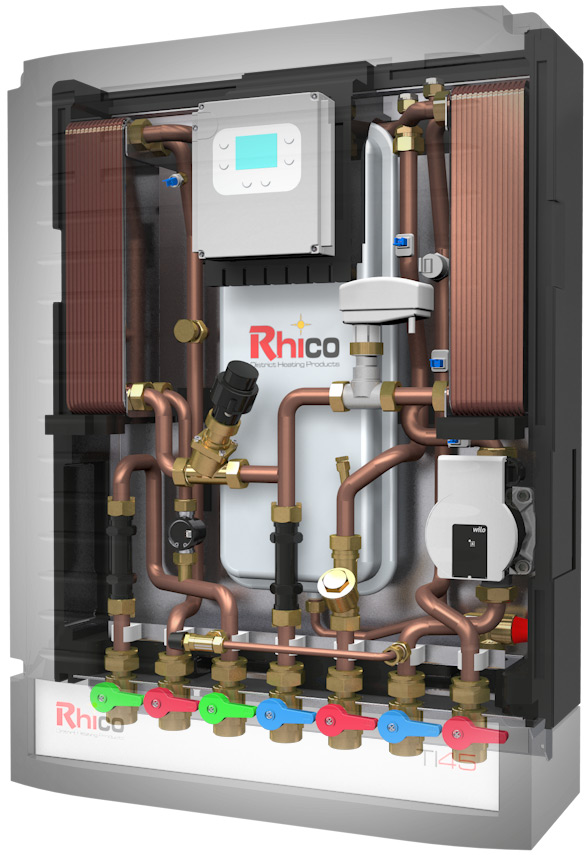 Ultra low primary temperatures (50˚C)
Ultra high hot water production
Primary max working pressure 16 bar
Fully settable DHW flow / standby temperature
Fully settable secondary heating return temperature
Wireless internet connection for remote monitoring
Fully insulated module with EPP60 g/l
Universal first fix bracket allows for easy future upgrades
BESA Approved
BSRIA Tested