Pre-Fabricated Plant Room Distribution Systems
Rhico DN40/50/65 plant room distribution systems have been designed as a professional alternative to traditional plant room installations. The unique modular plug and play system makes for fast and easy installation with a significant reduction in labour costs. The system is the first of its type to support twin headed pumps benefiting from higher reliability and increased efficiency. Fully insulated and aesthetically pleasing, the DN40/50/65 ensures continuity and a professional finish across all project types.
The Rhico DN energy distribution system is adaptable, versatile, flexible and is ideal for both new installations and refurbishment of existing plant rooms.
Through the introduction of the all new concept of 'CONNECTA' kit, Rhico is making the process of system and plant room design much easier. By standardising components, a modular plug-and-play system is made possible and is adaptable enough for any type of project. All modules are supplied pre-assembled, pressure tested and fully insulated so significantly simplifying on-site installation and assembly.
The DN range can be used in heating and cooling systems from 8°C and is the first ready-to-use system to which twin pumps can be installed.
Wide range of options – DN40, DN50, DN65 – tested, insulated and ready for installation.
Modular system – adaptable for any type of project.
Max working pressure 10 bar.
Possibility of right/left flow reversal installations.
Installation in confined and small spaces (90° curved connection for zone manifolds).
Connection of several zone manifolds of different sizes (pump group connection reduction kit).
Able to satisfy any type of demand independently of the zone manifold connection (adapter kit for pump groups up to DN25).
Pump groups – ready for installation of twin pumps.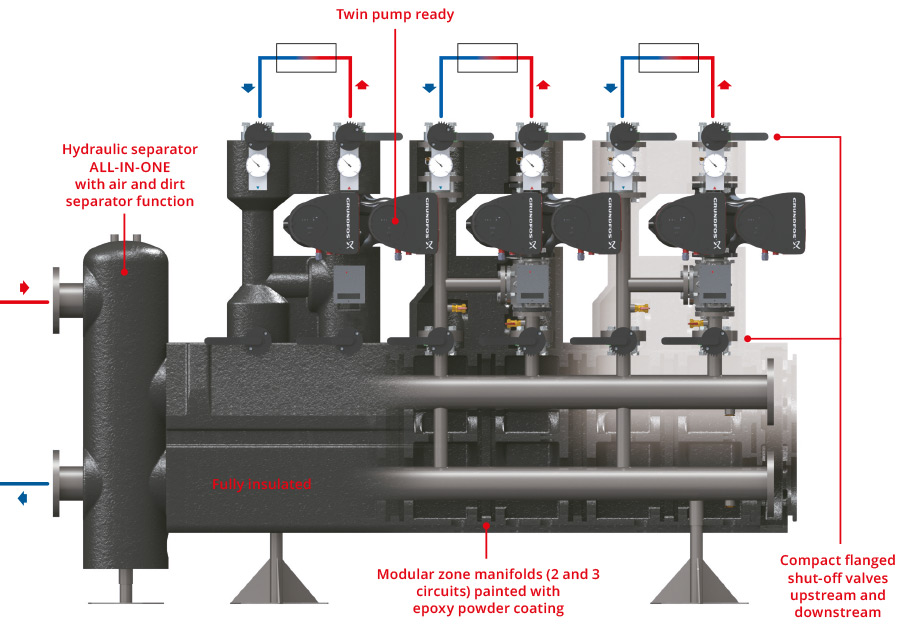 Versatile and flexible enough for any application!
The Rhico 'CONNECTA' kit allows you to:-
Install in small and confined spaces by creating corner plant rooms with CONNECTA 'A90'.
Connect different size zone manifolds with CONNECTA 'RC'.
Satisfy any type of demand independently of the zone manifold connection with CONNECTA 'RG'.
Block of flats (central plant systems with energy management and metering modules)
Shopping centres
Hospitals and care homes
Hotels
Residential accommodation
Large commercial and industrial buildings